WINTER 2005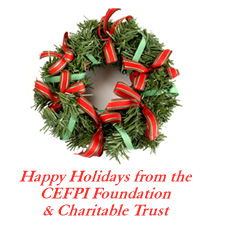 In this issue:
CEFPI Foundation Welcomes New Trustees
Washington Chapter Donates $10,000 for Research
Back to School Breakfast 2005 a Success
CEFPI Foundation & Charitable Trust Golf Tournament Scores High
School Building Week 2006
Foundation Distinguished Merit Scholarship Applications Available
Reginald Teague Foundation Challenge Fund
Parents Shell Out Big Dollars for Schools
Honor Roll 2005
Add the Foundation to your holiday list! Donate now!

CEFPI FOUNDATION WELCOMES NEW TRUSTEES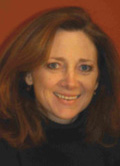 Victoria Bergsagel

Victoria Bergsagel
Victoria Bergsagel is an educator passionate about designing schools where all students achieve. She founded and directs Architects of Achievement, a group partnering with the Small Schools Project and the Bill & Melinda Gates Foundation to help educators and architects across the country integrate the work of facility design into school reform.

Harvard-educated, Victoria has been a teacher, counselor, principal, community relations director, school district administrator and adjunct professor. As the director of design in a large public school district, Victoria led the educational program planning upon which the construction of new schools was based. She has also served as the director of educational partnerships at Talaris Brain Research Institute. Working collaboratively with teams of researchers and educators to conduct, integrate, and interpret some of the world's leading brain research, her team helped connect relevant research findings to practical applications – combining the science of learning with the practice of learning.

Victoria now works to bridge the worlds of education and architecture serving as a consultant, featured speaker, and design jurist for clients ranging from school districts to national architectural organizations to education departments in the US and abroad. Balancing work with a love of the arts and outdoors, Victoria is a connoisseur of fine opera, extreme ski slopes, and Northwest bike trails.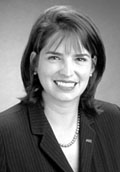 Irene Nigaglioni

Irene Nigaglioni, AIA, REFP
Newly elected to the Board of Directors of CEFPI as the Southern region representative, Irene represents the Southern Region Foundation on the CEFPI Foundation & Charitable Trust Board of Trustees.

Irene Nigaglioni is a partner with PBK Architects, Inc. In her current position, she is directly responsible for servicing every aspect of a client's needs and is responsible for communication and coordination between Owner's representatives and the entire A&E; team. During her more than 12-year tenure with PBK, she has been involved entirely in the design and construction of educational facilities.

Irene Nigaglioni's experience includes facilities assessments, master planning, programming, schematic and design development, construction documents and construction administration. An active member of the Council, Irene Nigaglioni also serves as president of the Southern region.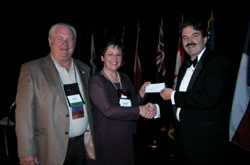 Thomas A. Kube, executive director, accepts Washington chapter's generous donation to CEFPI Foundation & Charitable Trust from Ralph Saxton, Washington chapter past president, and Debra Fulton, Washington chapter president.

WASHINGTON CHAPTER DONATES $10,000 FOR RESEARCH

The CEFPI Washington chapter presented a check in the amount of $10,000 to the CEFPI Foundation & Charitable Trust, with the caveat that this be used for research. In their shared desire for substantive research, the chapter requested that the Foundation consult with practitioners to ascertain what research they need to serve their clients best and increase the awareness and significance of good learning environments. The CEFPI Foundation will be responsible for collecting the research, publishing the results and including this research in conference presentations.

Thank you also to the Pacific Northwest Region, for their generous donation of $2,000 to support research projects.





BACK TO SCHOOL BREAKFAST 2005 A SUCCESS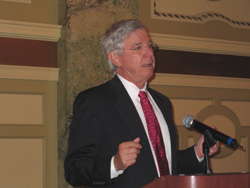 Governor Parris N. Glendening captivates the Back to School Breakfast gathering.

The CEFPI Foundation & Charitable Trust, in collaboration with the Healthy Schools Network, presented the first Back to School Breakfast on Wednesday, September 14, 2005, at the Willard InterContinental Hotel in Washington, DC. The benefit breakfast drew a broad array of individuals and groups – from PTA members to architects and engineers, public health advocates, policymakers and more. Proceeds from the Breakfast will be shared by the Foundation and the Healthy Schools Network to facilitate research that illustrates the impact of healthy, high performing school facilities on student achievement and community vitality.

Dale Scheideman, AIA, chair, CEFPI Foundation & Charitable Trust and CEFPI board member and Claire Barnett, executive director, Healthy Schools Network welcomed the gathering in the hotel's Crystal Room. Governor Parris N. Glendening spoke eloquently of the need to restore public health values to communities through improved siting and design of our schools. A longtime supporter of education and healthy communities, former Governor Glendening remarked that schools are indeed the key to revitalizing neighborhoods and communities. Governor Glendening currently serves as president of the Smart Leadership Institute, a project of Smart Growth America. Smart Growth America is a nation-wide coalition promoting a better way to grow – one that protects open space, revitalizes neighborhoods and makes communities more liveable.

We are deeply grateful to the munificent efforts of event underwriter, Heery International, Inc. and to the generosity of our event benefactors, DeJong & Associates, Inc. and National PTA along with event patrons, Center for Health and Healthcare in Schools, Fanning/Howey Associates, Inc., NEA Health Information Network and New York State United Teachers. Plan on attending next year's gala event!
| | |
| --- | --- |
| | Enjoying the morning's events are Dale Scheideman, chair, CEFPI Foundation & Charitable Trust; Governor Parris N. Glendening; Barbara Worth, associate executive director, CEFPI Foundation and Thomas A. Kube, executive director, CEFPI and CEFPI Foundation. |
| | |
| --- | --- |
| | Discussing the events of the day are event patron Tom Anapolis, New York State United Teachers; Governor Glendening; Claire Barnett, Healthy Schools Network executive director; Ramona Travato, HSN board member and Steven Boese, HSN New York state director. |

CEFPI FOUNDATION & CHARITABLE TRUST GOLF TOURNAMENT SCORES HIGH
96 golfers hit the links at the scenic Hyatt Hill Country Golf Club, San Antonio, during the annual benefit tournament for the CEFPI Foundation & Charitable Trust. The weather was picture perfect, the greens were great, the fun was unparalleled and the tournament netted an amazing $10,480.69 for the Foundation. The tournament proceeds benefit the programs of the CEFPI Foundation, which include the funding of research and scholarly study. The Foundation also supports projects such as the Distinguished Merit Scholarship program, School Building Week and the Paragon Schoolhouse Project.
Let's raise our clubs and offer congratulations to the winners of the 2005 CEFPI Foundation Golf Tournament:
1st Place Team: Tom Oehler, Gary Blanton, Marc Walker and Scott Stites
2nd Place Team: Larry Goodrich, Ray Bordwell, Patrick Beecher, and Ryan Miller
3rd Place Team: Ralph Saxton, Merle Kirkley, Cole Saxton, and Doug Wong
Closest to the pin trophies – Tom Oehler and Mike Geach
Men's Long Drive trophies – Matt DeJong and Danny Jardine
Women's Long Drive trophies – Charlene Whitlinger and Diti Arrage
2005 Sponsors
DBR Engineering Consultants
DeBourgh Mfg. Company
DeJong & Associates
Fanning/Howey Associates
Georgia/Carolinas PCI
Gilbane Building Company
H+L Architecture
Heery International
R.P. Carbone Company
Saxton Bradley (2 sponsored teams)
SHW Group (2 sponsored teams)
3/D International
Tandus
Teknion
Terracon
Vitetta Architects & Engineers
VLK Architects
Thanks to Peter Finsen, Carolina/Georgia PCI, board member, CEFPI Foundation and everyone who made this year's tournament a rip-roaring success!
Spotlighting our nation's schools and reinforcing the connection between school facilities and student learning, School Building Week is an annual program supported by the CEFPI Foundation & Charitable Trust in collaboration with CEFPI, U.S. EPA, the AIA and over 40 other organizations.
Again this year, School Building Week will highlight a different aspect each day of the week. Engaging school districts of every size, School Building Week creates greater public awareness of the importance of well planned, high performing, healthy and sustainable schools that foster student achievement and community vitality.
School Building Week 2006 features the School of the Future student design competition, a national School Building Day Walking School Bus as well as media events and unique celebrations.
| | | | |
| --- | --- | --- | --- |
| | Monday, April 17 | | Healthy Schools Day |
| | Tuesday, April 18 | | Historic Schools Day |
| | Wednesday, April 19 | | Senior Citizens in Schools Day |
| | Thursday, April 20 | | Schools as Centers of Community Day |
| | Friday, April 21 | | School Building Day |

FOUNDATION DISTINGUISHED MERIT SCHOLARSHIP APPLICATIONS AVAILABLE
The CEFPI Foundation & Charitable Trust Distinguished Merit Scholarship is a nationally competitive merit-based scholarship program designed to provide financial support for high school students planning to attend college as well as students currently enrolled in an undergraduate or post-graduate college program. The nominees must demonstrate an intent to major in, or verify that they are currently majoring in, a field related to educational facility planning and design.
Each academic year, seven students will be selected as the recipients of the $1,000 CEFPI Foundation Distinguished Merit Scholarship Award. One student will be selected from each of the six CEFPI regions in North America and one student will be selected internationally.
Distinguished Merit Scholarship Award information packets, with all required submission forms are available on the CEFPI Foundation Web site.
The scholarship submission requirements will be accepted by mailing a hard copy to the CEFPI Foundation & Charitable Trust Scholarship, postmarked by February 24, 2006 or emailed by 5:00 pm EST on February 24, 2006. Successful candidates will be notified by March 24, 2006 of their selection as the recipient of their regional CEFPI Foundation Distinguished Merit Scholarship Award.
Submittal Deadline:
Award Notification:
February 24, 2006
March 24, 2006

CEFPI Foundation & Charitable Trust Scholarship
Attn: Barbara C. Worth, Associate Executive Director
9180 East Desert Cove Drive, Suite 104, Scottsdale, Arizona 85260
Phone: 480.391.0840, Fax: 480.391.0940, barb@cefpi.org

REGINALD TEAGUE FOUNDATION CHALLENGE FUND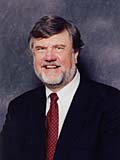 Regie Teague

Active in the Council since 1973, Regie Teague, emeritus member, has provided leadership at state, regional and international levels, serving as CEFPI president, 2001-2002, and most recently completing a three-year term as a Foundation Trustee. As a parting gesture, Regie Teague offered a challenge to the CEFPI Foundation & Charitable Trust Board of Trustees as well as the CEFPI membership for a $1,000 contribution with the goal of raising $50,000 in individual donations at the 2006 CEFPI annual conference in Phoenix, Arizona.

Named CEFPI Planner of the Year in 1997, Regie Teague was actively involved in the planning and construction of educational facilities for over twenty years and was directly responsible for the advancement and enhancement of Winston-Salem/Forsyth County Public Schools in North Carolina. As a result of Teague's direction and leadership, the district constructed seven new schools and provided additions and renovations at 13 existing schools. Under Teague's tutelage, four of the existing schools were declared historical landmarks. Teague's vision and passion for wanting all students to have the best possible environments to learn in led to the restoration of the buildings, while providing equitable space for the children attending these schools. Please join us in honoring Regie's commitment by answering his challenge!


PARENTS SHELL OUT BIG DOLLARS FOR SCHOOLS

Janelle Brown, Edutopia Magazine, observes that parents are no longer just chipping in; they are subsidizing the most fundamental aspects of their children's public education. Parents are paying for everything, from "extras", such as toilet paper or art classes to teacher salaries and core curriculum needs. The Las Lomitas Educational Foundation, Atherton, California, suggests that parents donate $1,100 per child per year – and most comply. Although the structure of educational foundations changes from district to district, the majority of the 5,000 such organizations in the United States are set up to raise money from parents, alumni, and the local community and add it directly to the school coffers. Read this article.

The CEFPI Foundation & Charitable Trust thanks our generous donors. Thank you for making a difference!

Reginald Teague Foundation Challenge – $1,000
Ronald H. Fanning, AIA, PE, REFP – Fanning/Howey Associates, Inc.

Paragon Schoolhouse Project
Alaska Chapter – $5,000
Midwest Great Lakes Region – $5,100

Research
Pacific Northwest Region – $2,000
Washington Chapter – $10,000

Special Gifts and Memorials – $100+
James A. Brady, AIA, REFP – America's Schoolhouse Council
Victoria S. Bergsagel – Architects of Achievement
Lee J. Brockway – Fanning/Howey Associates, Inc.

Annual Membership Voluntary Contributions – $25
(as of November 30, 2005)

Alphabetical by last name
A B C D E F G H I J K L M N O P Q R S T V W Y Z


A
Allison Abraham, AIA, ASLA – SMPC Architects
Edward Adams – Smith & Tracey Architects
Jay Adams – McKinley & Associates
Don J. Ackerman, PE – Ackerman Engineering, Inc.
Sharon Ackerman – Loudoun County Public Schools, VA
Gerry Agrey – Kindrachuk Agrey Architects Ltd.
Donald Akira, AIA – Waldron Akira, Inc.
Mary Alack, REFP – Consultant
Karen Alarid – Public School Facilities Authority, State of New Mexico
Guy Albright – Spectrum Communications
Robert Alford – Amtech Roofing Consultants, Inc.
Joseph J. Aliotta – Swanke Hayden Connell Architects
Mohamed Ait Allaoua – SSA Acoustics LLP
Rembert C. Alley, Jr. – Alley Associates, PA
Shawna Allison-Leslie – Kitchell
Rodolfo Almeida
Frank Amaro, Jr. – Chumney & Associates
George Ambeault – Greater Victoria School District No. 61, BC
Robert Ames – Foss Associates
Peter R. Andersen – Cornerstone Architectural Group
Allan Anderson, AIA – Anderson La Rocca Anderson Haynes
Dan Anderson – Don Tod Associates, Inc.
David L. Anderson – D.A. Hogan, Inc.
Kenneth David Anderson, PE – kdANDERSON Transportation Engineers
Rick Anderson – Ambassador Technologies, Inc.
Thomas M. Anderson, PE – TJ Krob Consulting Engineers, Inc.
Lee Andrea – DSA Architects, SHW Group, LLP
David Anstrand, RA, REFP – Educational Environment Planning Consultants
Stan Anthony – MBAJ Architecture
Jason Arebalos – Montrose County School District RE1J, CO
Ben Arning, Jr. – Excel Interior Construction, Inc.
Robert G. Arnold, AIA – Kohanski, Arnold & Chin Architects, Inc.
Jim Avery – Sprung Instant Structures, Inc.

B
Peter G. Bachmann – HLW International LLP
Richard Baier – Northland School Division No. 61, AB
Kevin Balciar – Soliel West
Joost Bakker – Hotson Bakker Boniface Haden Architects
Jerome Bankovich, Jr. AIA – KTH Architects, Inc.
Constantine Baranoff – Elk Grove Unified School District, CA
Jack A. Barker – MRMArchitecture, Inc.
C. Lance Barnett – Pinnacle One
Robert Barrera, Jr. – Cypress-Fairbanks Independent School District, TX
Greg Bass – Buffalo Trail Public Schools, AB
Tom Bassett – The DOH Associates, PS
David Batot – Harlingen Consolidated Independent School District, TX
Victor Baxter – Schrickel Rollins & Associates, Inc.
Serdar Baycan – Tectura Architects P/L
Bruce Bebb – Lightspeed Technologies Inc.
Dennis Bekken – Capital Consultants/Design Works AE
J. Terry Bell – Spring Independent School District, TX
Gloria G. Bender – TransSolutions
Martha Bennet, AIA – Bennett Wagner & Grody Architects, P.C.
Robert Bennett – Bennett Architect Inc.
Phil Benson – Saskatchewan Central School District No. 10, SK
Robert Berg – DeBourgh Mfg. Company
Charles B. Bettisworth – Charles Bettisworth and Company, Inc.
Jerry Bevel, REFP – cre8 incorporated
John Beynon – John H. Beynon, Inc.
Glennis Bibra – Glennis Bibra
Brent Bieshaar – Academic Specialties Inc.
Kevin Blackney – Blackney Hayes Architects
Kyle Blakeney – Harlandale Independent School District, TX
Robert W. Blatchford, Jr, AIA, REFP – Lesko Associates, Inc.
Thomas Blurock – Thomas Blurock Architects
Brian Boettcher, PE, LEEDR – Hargis Engineers, Inc.
Scott Bohne – RIM Architects
Darrel R. Boles – DBAI Architect
Mark Bollard – Swaim Associates
Lawrence Bortoluzzi – Calgary Board of Education, AB
Eris S. Bosman – Urban Collage, Inc.
Bill Bowen – BBB Architects
George W. Bowen – Savannah/Chatham County Public Schools, GA
R. Scott Boyd – Educational Systems Planning
Diane Bradford – Cobb County School System, GA
A.V. Brammar – ACI Architecture
John Brand – Brand Architects
Barbara Bray –Diocese of Oakland School Department, CA
Michael Breedlove – Breedlove Land Planning, Inc.
Allen E. Breland – Suffolk Public Schools, VA
John Brenan – Davis Langdon Australia
William A. Brenner – National Clearinghouse for Educational Facilities
Laura S. Brent, AICP – Shockley/Brent, Inc.
Barry Brobst – The Architectural Studio
Bob Browder – Skanska USA Building, Inc.
Colin Brown – Western Heights College
Darrell Brown – Burling Brown & Partners Pty. Ltd.
Gary W. Brown, AIA – Goforth, Brown & Associates
Glenn Everrett Brown – Cobb County School District, GA
Michael Brown – Mount Vernon Schools, WA
Robert L. Brown, Jr. , FAIA – RL Brown & Associates, Inc.
Rick Brugos – Holy Spirit RCSRD No. 4, AB
Larry Bryce – New Westminster School District No. 40, BC
Peter Bull – IBI Group
Alan E. Burnett – Gale Associates, Inc.
Roy Burson – JVC Associates, Inc.
Steven L. Busa, AIA – Steven L. Busa, Architecture + Planning
Steven Bushnell, MAAA, MRAIC – Unigroup
Walter H. Byrd – Clovis Unified School District

C
Dennis A. Cahill – The Odle McGuire & Shook Corporation
Paul Campbell–Allen – MCA Architects
Jonathan A. Cannon – Redeemer Baptist School, NSW, AUS
Joe F. Caperton – ASCG Incorporated
R. Glenn Capps – Hickman & Ambrose, Inc.
Dominic G. Carbone, AIA, REFP – R.P. Carbone Company
Victoria L. Cargile – VIC Associates Construction Management Services
James M. Carl – East Penn School District, PA
James Carlberg – CJP Architects
Michael I. Carlisle – White River School District No. 416, WA
Jon Carlson – Carlson West Povondra Architects
Steven R. Carpenter – Carpenter Sellers Associates
Paul L. Carper – Hanover County Public Schools, VA
John D. Carson – Brookstone LP
Jerry Carstensen – Wenger Corporation
David Cartnal, FAIA – BFGC Architects Planners Inc.
Dr. Carol S. Cash, EdD – Hanover High School, VA
Curtis Cassel, AIA – TR,I Architects
Guy C. Chamberlain, III – Charlotte Mecklenburg Schools, NC
Jeffrey D. Chambers, NCARB, AIA
Daniel Chandler – Olympic Associates Company
Bob Chapman, PE – 1-XL Masonry Supplies
David Erik Chase, AIA, CPMS – Chase A+EP, Architecture + Educational Planning
Jim Christensen – Architects West, Inc.
Vickie Christensen – Mohave Accelerated Learning Center
Andy Christie – Medicine Hat School District No. 76, AB
Jim P. Christie – CWP, Inc. Creteseal
Noel J. Christie – NJ Christie & Associates, Pty Ltd.
Gaylaird Christopher, AIA – Architecture for Education, Inc.
E. Jay Christopherson – CA Alliance
Kathy J. Christy, REFP – Northwest Arctic Borough School District, AK
Dale W. Churchill – Abbotsford School District No. 34, BC
Joseph Ciotti – Richardson Associates - Electronics Inc.
David James Clark – Open Tech
G. Roy Clark – Lloydminster Public School Division, AB
Nick Clark – Clark & Clark
Cynthia Clarke – C.N. Watson & Associates, LTD
Charles Clattenburg – Nova Scotia Department of Education
Michael Clausen – La Porte Independent School District, TX
Donald Clickner, CDF – Cabarrus County Schools, NC
David Clinton, AIA, PA – Michael Hining Architects
Robert E. Cliver, PE – Estes, McClure and Associates, Inc.
James Clough –AIA, Diseroad Wolff Kelly Clough Bucher
Mark Cloutier – Franklin Public Schools, WI
Robert Cohen – Robert Cohen CO., LLC
Marty Cole, PE – Campbell River School District, BC
Carol Coleman – Frazee Paint
William F. Coleman, III – Detroit Public Schools
Ann W. Collier, AIA, Oakley Associates, Architects, P.A.
Michael L. Collins – Collins Cooper Carusi Architects, Inc.
Richard Connell, AIA – The S/L/A/M Collaborative
Gerry Conway – Brisbane Catholic Education, AU
Paul A. Corneliussen, AIA, – French Associates, Inc.
John J. Crace, FRAIC – WHW Architects
Brian Craig, AIA – Progressive AE
Steve Crane, FAIA, REFP – VCBO Architecture, LLC
Dr. Donald R. Cross – Educational Facility Consultants
Earl Crossland – Voorhis Stone Welsh Crossland
Cesidio Cugini, MRAIC, REFP – Makrimichalos-Cugini Architects
Burt Cullum – Acoustical Resources, Inc.
Harry Cummings, Jr., AIA – Cummings Associates Architects, Inc.
Mike Cush – NSW Department of Education & Training, AUS

D
Rick Dallmann – Southwest Region School District, AK
Terry Danelley – LM Architectural Group
Russell Davidson, AIA – Kaeyer Garment & Davidson Architects, PC
Jay C. Davison – Capital Program Mgt., Inc.
M. Gretchen DeDecker, REFP – Seattle School District, WA
Matthew K. DeJong – DeJong & Associates, Inc.
William S. DeJong, REFP – DeJong & Associates, Inc.
Paul S. Degillio – Burkavage Design Associates
Dale R. Dekker, AIA – Dekker/Perich/Sabatini Ltd.
R. Lee Derr – Rogers O'Brien Construction Company
Gary Desmond, FAIA– AR7 Hoover Desmond Architects
Lawrence B. Dickenson – Branch & Associates, Inc.
Dwight A. Dickinson – Dickinson Hussman Architects, P.C.
Kevin Dixon – Peace Wapiti School Division No 76, AB
Thang N. Do – AEDIS Architecture & Planning
Martin Dolan – Montgomery Sisam Architects, Inc.
Diane Doney – Durango Schol District 9-R, CO
Lee P. Dore, AIA – Dore & Whittier Architects, Inc.
Scott Downie – Spiezle Group, Inc.
Rose Dowdy – EnLink Geoenergy Services

E
Ed Eastridge – Concord Eastridge, Inc.
Barbara Egan – Woodward Academy, Inc.
Steven Elliott – Lewis, Elliott & Studer, Inc.
Vern Enns – Hargis Engineers
David Jay Epstein – Truex Cullins & Partners Architects

F
Paul H. Falkenbury, REFP – Samaha Associates, P.C.
Ronald H. Fanning, AIA, PE, REFP – Fanning/Howey Associates, Inc.
John M. Farrell, AIA, REFP – FKP Architects, Inc.
Van Fears – Hill Phoenix, Inc.
Martin Feitlowitz – Feitlowitz & Kosten Architects, PA
Cheryl Felske – HCA Architects
David Ferguson, REFP – ZMM Inc.
Chuck Fields – Fields & Associates
John E. Field – Field, Field & Field
Roger Field – Field, Field & Field
Michael A. Fields, AIA – Gallaudet University
Peter I. Finsen – Georgia/Carolinas PCI
Randall A. Fischer, AIA – Summit Consulting
Al Flores – Vail School District No. 20, AZ
John R. Flynn, REFP – Kiernan Corportion
Donna Ward Francis – Pearce Brinkley Cease & Lee PA
Sherrie Fraser – GE Modular Space
Mark French, REFP – Bay Architects, Inc.
David L. Friar, AIA – Friar Associates, Inc.
Andrew Frichtl, PE – Interface Engineering
John Friedman – Village Architects, LLC
Deborah Mae Friesen – O.C.A. Architects
Catherine Fritz, AIA, REFP – Juneau City and Borough
John Frombach – Baldwin-Whitehall School District, PA
Wyndoll Fry – Interface Flooring Systems
Bradford J. Furey, REFP – Hayes Large Architects, LLP

G
Marlin Gabbert – Gabbert Architects Planners
Eli Gage – School Construction News
Robert Garrison, Jr. – Garrison Architects
Lesa Gary – United Environmental Services, LP
Scott Gaudineer, AIA – Flewelling & Moody Architects
William A. Gaudreau, AIA – Gaudreau, Inc.
Mark Gazette – Pueblo School District No. 60, CO
Andrew Gehling – Infrastructure Division DTEI
Gareth N. Genner – Independent School Counsel, Inc.
Richard George – R.H. George & Associates, Inc.
Elizabeth Geraghty – Heery International, Inc.
Frank Geyer, PE – Delta School District No. 37, BC
Christopher Gibbs, AIA, REFP – POPE Associates
Thomas W. Gilbert, AIA, REFP – Gilbert Architects Inc.
Carolyn Glass – Northwest Houston Community College
Lawrence J. Gleason – CPMI
James Golightly – MBAJ Architecture
Stephanie Gonos – Capital Program Mgt., Inc.
Larry Goodrich – Terracon
Trevor Gough – Greater St. Albert Catholic Schools, AB
John Gourley – Venus Manufacturing Co.
James M. Graham, AIA – Graham & Hyde
Paul Graham – Master's Academy & College
Victor R. Graves – Graves & McLean, Architects
Ted Paul Green – Wilson & Company, Engineers & Architects
Jeffrey L. Greene, AIA – Greene-Gasaway Architects PLLC
Norman Grey-Noble, REFP – Grey-Noble & Grey-Noble Architects
Jason Grice – Grice Engineering, Inc.
William Gridley, FAIA – Bowie Gridley Architects
Michael A. Griebel – Healy, Bender & Associates, Inc.
Geoffrey C. Grimes, AIA, REFP – Struxture Architects
Michael Gumm – Corporate Roof Consultants, LLC
Robert T. Gunn, AIA – Clark Nexsen Architecture & Engineering

H
Paul S. Haack – AndersonMasonDale Architects
William Haddon – Wrightson, Johnson, Haddon & Williams, Inc.
Dennis L. Ham – Construction Strategies Inc.
Gerald S. Hammond, FAIA – Steed Hammond Paul, Inc.
Jim Hansen – Bethel Public Schools, WA
Michael A. Harris – Harris Consultants, LLC
Elise Kollmann Harrison – Accomack County Public Schools
Kevin A. Harrison, AIA – TMP Architecture LLC
Terry Hart – Kraus–Anderson Construction Company
Gerry M. Hartland – Edmonton Catholic Schools, AB
Larry Hartman – Hartman LTD, Inc.
Rex Hartman – St. Vrain Valley School District, CO
Jerry Hartsfield – TLM Associates Inc.
Kim Dale Hassell – Plunkett Raysich Architects
Lee Heckendorn – DCM Architecture Inc./EDUFAC
Ty M. Heim – Quality Planning Consultancy, Inc.
Bruce D. Helm – Charter Builders Ltd.
Gita Hendessi – Hendessi & Associates, LLC
Thomas B. Hendrix, AIA, REFP – ATS&R; Inc.
Joel E. Hestrup – Hestrup & Associates Architects, Inc.
Fritz Hext – Columbia Brazoria Independent School District
Dr. Patrick Hickey – Douglas County School District, CO
Keith Hickman, REFP – OPUS 3 Architects
Bud Hidlay – YKK AP America, Inc.
Charles Higueras, AIA – VBN Architects
Denny Hill – Strategic Resources West
Franklin Hill, Ph.D – Franklin Hill & Associates
Sprunt Hill – Wayne County Board of Education, NC
Steve Hitchman – Abacus Project Management, Inc.
Jim Hodges – The Hodges Group, PC
Randall L. Hohlaus – Kell Munos Architects, Inc.
Peter Martin Hohn – Holland Roth Architects
R. William Holcomb – Rockingham County Schools, NC
David M. Holland – Pearland Independent School District, TX
Cheryl Miller Honigsberg – Eidos Architects
Todd Horenstein, AIA – Vancouver School District No. 37, WA
Richard L. Horton – Coronado Builders, Ltd.
Stephen D. Hostetler – Timmons Group
Galen Glenn Howsare – West Des Moines Consolidated School District, IA
Christopher M. Huckabee, AIA – Huckabee & Associates, Inc.
Elaine Grove Huckaby – Advantage Appraisal Services
Wally Huerta – Huerta & Associates Architects
James A. Huettl, AIA – USKH, Inc.
Rick Hume – Howe Sound School District No. 48, BC
Alberta Hutchings – Elk Island Catholic SRD No. 41, AB
James A. Hutchinson, PE – JAED Facilities Solutions
Jack Hutteball – Hutteball & Oremus Architecture, Inc.
Terry K. Hyer – ECI-Hyer Architects

I
Robert Michael Iamello – Tomaino Tomaino Iamello & Associates, P.A.
Edward H. Ide, PE – JAED Architects & Engineers
Benny G. Ingram – ECS, Ltd.
Earle Ipsen, AIA – HTL, Inc. Architects

J
Robert A. Jackson, Jr. – Iredell/Statesville School, NC
Steve Jackson, ASCT – Rocky Mountain School District No. 6, BC
Daniel W. Jardine, REFP – The Facility Group
Richard Jaynes – N. John Cunzolo Associates, Inc.
Dale C. Jerome – French Associates, Inc.
George Jezek, AIA – Wallace Group, Inc.
Casey Johnson – Forbo Linoleum Inc.
Buck Jones – Downingtown School District, PA
Randy S. Jones, R.A. – Oliver, Webb, Pappas & Rhudy, Inc.
Lee M. Jorik – Consultant
Nancy Josephson – Northshore School District, WA

K
Edward Kazanjian – Westwood Public Schools, MA
Peter Keithly – Keithly Walsh Associates, Inc.
Mark K. Kemp, AIA – Carmichael-Kemp Architects
James Kennedy – NSB School District, AK
Sharon Kennedy – The Robinson Company
Dan Kiernan – Stonhard
Craig P. Kimmel, AIA – Reese Lower Patrick & Scott LTD
Les King – Vancouver School District No. 39, BC
Rodwell G. King, RIBA – GPD Associates
Peggy A. Kinsey, AIA – Architecture 19
David Kirk – DNK Architects Inc.
Kirk Kistner – Bartlett Cocke General Contractors
Ken Kjelland – Baird/Williams Construction, Ltd.
Dale A. Klappenbach, AIA – Klappenbach Architects
Stephen Kleinhans – Williams + Paddon Architect + Planners Inc.
Ronny L. Klingbeil, PE – RLK Engineering, LLP
Jeff Klippenstein – Hershenow + Klippenstein Architects
Alan Kloepper – Grasslands Public Schools, AB
Laura Knauss, AIA, LEED, REFP – Lionakis-Beaumont Design Group, Inc.
Joe Kobes – Frevert-Ramsey-Kobes
Robert J. Kobet, AIA – Sustainaissance International, Inc.
Chris Kraemer – URS Corporation/Orange County Public Schools, FL
Richard Krehbiel, PE – Roth Partnership, Inc.
Patrick J. Krochina, AIA –Krochina Architects
Gary Kromer – Kaatz/Binkley/Jones/Morris Architects
Scott A. Kuehn – H+L Architecture LLC
Joseph Kunkle, AIA, PE – SSOE Inc.
Wendy Suzanne Kunz, AIA, REFP – Camden Board of Education, NJ

L
Doug LaFerle, AIA – French Associates, Inc.
James E. LaPosta, Jr. – Jeter Cook & Jepson Architects Inc.
Gary W. LaRose, CSI – Dean & Dean/Associates Architects, PA
Michael Lahowin – TCA Architects, LLC
Keith Langer – Environmental Market Solutions, Inc. (EMSI)
Gil Lappano – Downingtown Area School District, PA
Bruce Larson, AIA – Larson Architects, PC
Gary Lauritsen, REFP – Coffman Engineers Architects PC
Eileen Lawrance – WA Catholic Education Office, Australia
Roger J.A. LeBlanc – Boucock, Craig, Wong Architects
W. Bruce Lea – Gilbane Building Company
Donald Lee, AIA – THA Architects Engineers
John Lee – McGlashan Everist Pty. Ltd.
Gordon Lee – Selig/Lee/Rueda Architects/Planners LLC
Vaughn L. Lein, AIA – LSW Architects PC
Gerard T. Letizia – Hudson County Schools of Technology, NJ
Howard Levinson, CPP – Howard Services Inc.
Lorne Levy – Nunavut Government Department of Education, NU
Peter Li – School/College Planning & Management
Joseph Licata – Harford County Public Schools, MD
Thomas J. Lindsey – Cole + Russell Architects
Michael Lindstrom – Bovis Lend Lease
Pamela Loeffelman, AIA – Perkins Eastman Architects PC
Michael Longanecker – Richardson Independent School District, TX
Shellie Loper – The Matrix Group
Bill Low, P.Eng, MCIP – Bill Low & Associates Management Ltd.
Brenda R. Lowrey, AIA – State of Hawaii DOE, Facilities/Support Services
Steve Lucas – Winter Construction Company
Daniel W. Lukich – Orange City Schools, OH
James E. Lynch, AIA – James Lynch & Associates

M
Eddie MacEldowney – Davis Martin Powell & Associates Inc.
Ian Macdonald – Macdonald & Associates, Architects
Mike Mahaffy – Livingstone Range Schol District No. 68., AB
Nino Maletta – Prince George School District No. 57, BC
Vivian Manasc, MRAIC – Manasc Issac Architects Ltd.
Raymond L. Manning, REFP – Song + Associates, Inc.
Todd Mantz – Capitol Seating Company
Sandra March – Ashley McGraw Architects, PC
Kirk Marchisen, RA, AIA – Stevens & Wilkinson Stang & Newdow, Inc.
Gary Marek – Texas Education Agency
John Marshall – Satterfield & Pontikes Construction, Inc.
Reg Martinson – Evergreen School District, WA
Robert Matschulat, AIA, CSI – Jefferson County School District R-1, CO
John J. Maurer – RuckPate Architecture
Urs Maurer – Schulbauberatung
Swain Mayo – WRA Architects
Russell O. Mays – University of North Florida
Jules Maziar – Quality Design Products
Ronald Mazza – Read Jones Christoffersen, Ltd.
Darrell McAllister – JHBR Architects, Inc.
Lorne McConachie – Bassetti Architects
Gerald McCudden – Pattison MGM Architect Services Ltd.
George D. McDavid – George McDavid & Associates
Brian K. McDonald – BC Hydro
Tom McElheny – Clark Patterson Associates
Michael McGavock, AIA – McGranahan Architects
Sean McGrath – Assa ABLOY Door Security Solutions
Vern L. McKissick, III, AIA – McKissick Associates PC
James McLaughlin – S2 Architecture
David J. McLean, AIA – Graves & McLean, Architects
Robert A.J. McMann – Lethbridge School District No. 51, AB
Edward M. McMilin, REFP – Milwaukee Public Schools, WI
Stephen McNicholls – Rocky Point Engineering Ltd.
Garry D. McTighe – Stebnicki, Robertson & Associates Ltd.
Rodney W. Meadows, AIA – Motter & Meadows Architects
Glenn E. Meeks, REFP – Meeks Educational Technologies
Wynn Mehlhaff, AIA – Davis Design
David Melroy – MSA Engineering Consultants
Guy Michaelsen – The Berger Partnership
Gloria Mikolajczyk – Maryland Public School Construction Program
David Milne – Mission School District No. 75, BC
Mark M. Miller – Wise-Miller Architects
Patrick Miller – Alvin Independent School District, TX
Steven Miller – CLH Design, PA
William Miller – Dansby & Miller AIA Architects
Robert J. Millunzi – Millunzi & Associates, Inc.
James Milzer – Franklin Public Schools, WI
David Minnigan – Earl Swenson Associates
Terry W. Mitchell – Red Deer Public Schools District No. 104, AB
Peter Eric Moeck – Brown Falconer Group Pty Ltd
Ray S. Moore – Cunningham Forehand Matthes & Moore Architects
Bruce D. Mortimer – Wilson & Company, Engineers & Architects
Matthew P. Moscati – TRM Architecture Design & Planning, PC
Michael A. Mulheirn, REFP – Jefferson County Public Schools, KY
Elizabeth Mullins – Gould Evans Goodman Associates
Leah Mumford – SIS–USA Inc.
Jose Murguido, AIA – Zyscovich, Inc.
John Murph – 3/D International
Patricia Myler, AIA – Fletcher-Thompson Inc.


N
Geoff Nairn – DesignInc.
Adelaide Pty Ltd
Robert G. Naugle, AIA – Eckles Architecture, Inc.
Mark Nerland – Qu'Appelle Valley School Division No. 139, SK
Victoria Newell, AIA – schorr architects, inc.
Gerald R. Nichols – NJRA Architects

O
James O'Malley – EHS International
Dermot O'Neill – O'Neill O'Neill Procinsky Architects
Ken Oak – Holy Trinity RCSSD No. 22, SK
Umur Olcay – Surry School District No. 36, BC
Andrew n. Onukwubiri – Queen Anne's County Public Schools
Herman L. Orcutt, AIA – The Orcutt/Winslow Partnership
Don Orr – Boulder Valley School District, CO
Rick W. Ott, REFP – MB Kahn Construction Co., Inc.
Hal F. Owens, MRAIC – Stantec Architecture Ltd.


P
Ralf E. Pagenkopf, PE – Stuart Olson Construction
Bill Panos – Olympia Office Superintendent of Public Instruction, WA
Ed Paras – Parkland School Division No. 70, AB
Steven L. Parker – Grimm & Parker Architects
Michael Patano – Patano Architects
Harry Patterson, AIA – Educational Facilities Planners
Donna Payne – PMDL Architecture & Design Pty. Ltd.
Dan Pearse – Turner Construction Company
Jeff Peck – De Stefano + Partners, LTD.
Tom Penney – DLR Group
Shiela Penny – Toronto District School Board, ON
Jean Perantoni – SSP Architectural Group
Geraldine Peten
Jay M. Peterson, AIA – Erickson McGovern, PLLC
Karen Place – Proffitt & Associates Architects
Brad Pfluger, AIA – Pfluger Associates, LP
Peter R. Phinney – School Facility Roofing Review, Inc.
Robert L. Pian – Schneider Shay Pian Worcester Architects
Clark Pierce, AIA – Walter Robbs Callahan & Pierce Architects
Robert Pilkington – Textron/Chamber of Commerce Charter High School
Jeffrey K. Platenberg, REFP – Lexington School District No. 1, SC
Jon Plumer – Wilson & Company, Engineers & Architects
Milton Powell, AIA – Milton Powell & Partners
John Przybylski – Peace River School Division No. 10, AB
Doug Pudwell – Medicine Hat School District, No. 76, AB
Leslie Punshon, PE – Canadian Rockies School District No. 12, AB
David Pysyk – Spruce Grove Composite High School, AB

Q
Sheldon Quinn – Quinn Young Architect Ltd.


R
Rocco Raimondi – Wiebe Forrest Engineering Ltd.
Jack Rambo, Ed.D – SHW Group, LLP
Merle W. Rambo –Rambo Associates, Inc.
Gulab Ramchandani – Ramchandani Education Consultants PVT, LD
Fadi Rassam – Parsons
Christine Ray, AIA – KPS Group, Inc.
Tommy Joe Razioznik –PSRBB Commercial Group, Inc.
Kenneth E. Redfoot – Corley Redfoot Zack, Inc.
Leland L. Reece – Christiansen Reece & Partners PC
Gerald Reifert, AIA – Mahlum Architects
Harry Reitwiesner – Falcon School District No. 49, CO
Craig S. Reynolds, AIA – Brown Reynolds Watford Architects
Paul Ricciuti, FAIA – Ricciuti Balog & Partners Architects
Bill Richardson – BLGY, Inc.
Roger D. Richardson, AIA – BCWH Architects, Inc.
Julieann Riedstra – SA Department of Education/Children Services, AU
Paul S. Rising, AIA – BLRB Architects PS
Kenda Roberts – EHS International
Marshall Roberts – Buncombe County Board of Education, NC
R. Wayne Roberts, AIA – The Roberts Group, PA
John S. Robertson – RWS Architects, Inc.
Keith Roeschley – Core Construction
Michael L. Rodgers – Consolidated Engineering Services, Inc.
Ralph W. Rohwer – Heery International Inc.
C. Michael Ross, AIA – HBA Architecture, Engineering & Interior Design
David Rower – Durotech Builders of Integrity
Dennis T. Rozak – Owen J. Roberts School District, PA
Paul Rosso – Rauland–Borg Corporation
Thomas D. Rushin – Yuma Elementary School District, AZ
William D. Rutherford – Clemons, Rutherford & Associates
James E. Rydeen
Anthony Ryba – Hazleton Area School District, PA
David William Ryder, MRAIC – Barr Ryder Architects & Planners
James A. Ryland – Shippensburg University

S
Pete Saari – Koroseal Wallcoverings/Walltables
Alan Sadeghpour, AIA – Prozign Architects
Keith Sallaway – IBI Group
David Sammel – Sammel Architecture PLLC
Mark Sandberg – Sandberg & Small Architecture
Michael Sapp, AIA – Sapp Design Associates Architects PC
Nick Sauer – Envision Mechanical Engineers Inc.
Ralph C. Saxton III – Saxton Bradley, Inc.
Thomas M. Sayre, AIA – Sizemore Group
Dennis W. Schmick – nora Rubber Flooring
Herbert Schneider, FAIA – Schneider Shay Pian Worcester Architects, LLP
Lorenz V. Schoff, PE – Energy Efficient Solutions
David Schrader, AIA, SchraderGroup Architecture
Paul Scinocca – Upper Grand District School Board, ON
Deborah Scott – Scott Morris Architects Inc.
Michael H. Schwartz – Matabuska-Susitana Borought Public Works, AK
William W. Schwegler – Waller, Todd & Sadler Architects, Inc.
Jack F. See, AIA – Wittenberg Delony & Davidson, Inc.
Herbert A. Semple, AIA – Semple & Drane Architects, PA
Alfred R. Sena – Rio Rancho Public Schools, NM
William J. Seybert – Brooks & Sparks, Inc.
Michael Shares – Renaissance Communication Systems, Inc.
Curtis Shaw – Austin Independent School District, TX
Ronald F. Shelby – High Jackson Associates, PA
Donald P. Shell, AIA – Community Tectonics Architects
Ted E. Shelton, Jr. – ASA Architects PA
Thomas J. Schoeman, AIA – JMA Architecture Studios
Carlos Sierra – Sierra-Martin Architects
Eric Siler – LWPB Architects & Planners, P.C.
Hugh C. Skinner, REFP, MCIP – Stantec
David Simmons – Coleman Johnson Clyma, Inc.
Jim Singleton, AIA – Jim Singleton Architects
Douglas R. Slager – Harmsen & Associates, Inc.
Billy D. Smith – Kershaw County School District, SC
Charles Smith – HTK Architects
Kevin Smith – Claycomb Associates, Inc.
Roger P. Smith, AIA – Burton, Behrendt & Smith PC Architecture/Engineering
Ronald D. Smith – Planning Advocates, Inc.
Traci Smith – Blankenship Associates, Inc.
David Snelgrove – York Region Board of Education, ON
Donald Snider – Snider Reichard March Architects
Brad Snoke – School Specialties/Projects by Design
William E. Snyder, FAIA – Tate Snyder Kimsey Architects
Herbert Solano – Bobrick Washroom Equipment, Inc.
David Soleau, AIA – Flansburgh Associates Inc.
Robert Spaetgens – S2 Architecture
B. Dick Spangler, AIA – Manley Spangler Smith Architects, PC
John D. Spells – Construction Dynamics Inc.
Steve Sperling – Winter Construction Company
Richard Spicer – Tyler Construction Co., Inc.
Kenneth Stafford, AIA – Alley, Williams, Carmen & King
George Staples – Catholic Diocese of Providence, RI
Mary Joan Starr – Lodi Unified School District, CA
Craig Stauffer, REFP – Putnam Collins Scott Associates, Inc.
Yale Stenzler – YES Consulting, LLC
Bob Stephenson – Brath, Inc.
Kenneth R. Stevenson – University of South Carolina
John Stewart – Stewart + King Partnership
William Stewart – SSA Acoustics LLP
Claire Grove Stone – Stone Grove Design
William Strauss, AIA – El Taller Colaborativo (ETC)
Scott A. Sulski – Fugro Consultants LP
Al Summers – Greater St. Albert Catholic Reg. Div. 29, AB
Robert S. Sussenbach, AIA – Chapman Griffin Lanier Sussenbach Architects, Inc.
Barry W. Swanquist – Krueger International
Jack Swanzy, AIA, REFP
Robert Swart – Cohos Evamy

T
Ali Taghdir, AIA – Ali Taghdir Architect
Yu-Jin Patrick Tan – CPG Consultants Pte. Ltd.
Michelle Tanem – Johnson Controls
Edward Taney, PE – Taney Engineering
Jan T. Taniguchi, AIA – STR Partners LLC
Bill Tatom – Porath Tatom Architects Inc.
David P. Taylor – Jefferson Parish School Board
Leanne Taylor – DEET – Financial Services Division, NT, AUS
Paul Taylor, RA, REFP – Crabtree, Rohrbaug & Associates, Architects
David W. Tench, AIA – Gardner Spencer Smith Tench & Hensley PC
Boyka D. Thayer – Tattersall Design
John F. Thomas, Jr. – MBAJ Architecture
Jon M. Thomas – Thomas & Williamson
Ken Thrasher – Sy Richards Architect Inc.
Tom Tittemore – Marshall Tittemore Architects
John Torpey, REFP – KBA Architecture, Inc.
Kelvin Trimper – Lend Lease Communities
Mark Trotter, FAIA – Fulton Trotter & Partners Architects
Robert Tucker – Kodiak Island Borough, AK
Steven R. Turkes, AIA – Perkins & Will

V
Michael Valenti – GE PermaCon / GE Modular Space
Victor P. Valeski, Ed.D – Designs4Learning, LLC
Edward Van Sice – Jackson Public Schools, MS
Tamela Van Winkle – Bainbridge Island School District, WA
Christopher Veit – Carlson Veit Architects, P.C.
Darrell Vickers – Wallace Group, Inc.
Greg Vickers – Vickers Nelson & Associates
Yossi Vinograd – CPI International, Inc.
Maria Viteri – International Masonry Institute
Michael Vivian-Taylor – Taylor Oppenheim Pty Ltd Architects

W
Nelson Wagner – Saskatchewan Department of Learning
Frank W. Wagster – TLM Associates, Inc.
Larry Wall – Cobb County School District, GA
William R. Wallace, AIA – Fayette County Public Schools
Judson Walton – Carteret County Schools, NC
Mark Warneke, REFP – Omaha Public Schools, NE
Rodney Watkins, REFP – ZMM Inc.
Perry Watson, AIA – Yeager Watson and Associates, Inc.
Craig Webber – Group 2 Architecture Engineering
Bryce A. Weigand, FAIA – Good, Fulton & Farrell Architects
Dan Westwood – Ferrari Westwood Architects
Bob Whisnant – Southwest Concrete Products L.P.
Glenn Whiteley – Sooke School District No. 62
Brian Wiese, AIA – Stafford King Wiese Architects
Alan E. Williams, PE – MechWave Engineering Ltd.
Alan Williams – Fraser Coast Angelican College
Brenda Williams – PolyVision Corporation
Steven E. Williams – JJSF Architects Ltd.
Cecelia Wilson – NSW Department of Commerce
Donald T. Wilson – Magellan K-12, Inc.
Gerald L. Winchester – Winchester Alaska Inc. Architects
Dan Withers – D.L. Withers Construction
Larry Wonder – Virco Mfg. Corporation
Steven D. Wong, AIA – Mitsunaga & Associates, Inc.
Mal Woodhouse – Niagara College of Applied Arts & Technology
James G. Woods, AIA, REFP – FGM Architects/Engineers
Lanny Worel – San Antonio Independent School District, TX
Kirk Worthington – Worthington Contract Furniture, LP
Justin Wotherspoon – Saunders Evans Architects Inc.
Fred Wright – Corvallis School District 509J, OR

Y
James J. Youck – P3 Architecture Ltd.
Dennis M. Young – William B. Ittner, Inc.


Z
Michael Ziara – Mercer Island School District, WA
Daunne Zinger – University of Washington, Alterations Division


ADD THE FOUNDATION TO YOUR HOLIDAY LIST! DONATE NOW!

For much less than the price of your daily coffee, just 50 cents a week, your tax deductible donation of $25, or any amount, helps ensure the continuation of CEFPI Foundation & Charitable Trust programs. The Foundation is a non-profit organization established to generate funds to foster research and scholarly study regarding the impact of school facilities on student achievement and the communities they serve. The Foundation also funds projects such as the Distinguished Merit Scholarship program, the Paragon Schoolhouse Project and School Building Week. Providing today's children and future generations with healthy, safe, high performance learning environments contributes to student success and community vitality. Do something lasting, something that will live on as a legacy to our children and our communities. Giving back, especially through philanthropic support of the Foundation, ensures that we achieve our common goals.

For further information, please visit the CEFPI Foundation & Charitable Trust Web site at www.cefpifoundation.org or contact Barbara Worth, associate executive director, barb@cefpi.org.


One of the greatest gifts you can give is the gift of knowledge. Providing today's children and future generations with healthy, sage, high performance learning environments contributes to student success and helps to build a stronger and brighter future for our world. Do something lasting, something that will live on as a legacy to our children and our communities. Your contribution will make a difference today and in the future.