SCHOOL BUILDING WEEK

Web Site:
http://sbw.
cefpifoundation.org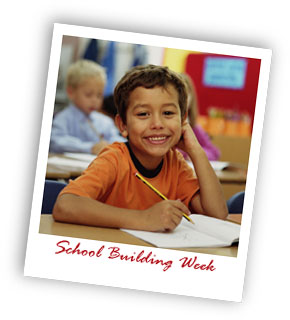 Schools are places of great hope indeed, they are the building blocks of our nation. Sustainable schools support culture, the community and the environment in short, they encourage smart growth and healthy communities. Better schools build stronger communities. Today we have an opportunity to create effective learning environments that reflect the community's unique assets as well as its needs; serve as a resource of education, health and human services to students and neighborhood members alike; and, strengthen community life.
In collaboration with the Council of Educational Facility Planners International (CEFPI), the U.S. Environmental Protection Agency, the U.S. Department of Energy and more than 40 other organizations partner in this weeklong commemoration.
The quality of our schools affects us all. Please join us in creating a legacy to our children and our communities.
The Council of Educational Facility Planners International (CEFPI), a 501 (c)3 non-profit, is the only professional organization whose principle purpose is improving the places where children learn. CEFPI embraces all stakeholders who are committed to building healthy, safe, high performing school facilities and stronger communities. The Council functions as the convening organization to share knowledge, experiences and best practices of planning, designing, building, renovating and maintaining learning environments that center a community and enhance student achievement.
The CEFPI Foundation & Charitable Trust is a non-profit 501 (c)3 organization established to generate funds to foster research and scholarly study regarding the impact of school facilities on student achievement and the communities they serve. The Foundation's mission is to seek out, identify and foster research, projects and other works that impact the environment where students learn and improve the body of knowledge through stewardship of an endowment of funds and services.
School Building Week 2007 Partners

CEFPI Foundation & Charitable Trust
Council of Educational Facility Planners International
U.S. Department of Energy
U.S. Environmental Protection Agency, Energy Star
U.S. Environmental Protection Agency, Indoor Air Environments
U.S. Environmental Protection Agency, Office of Children's Health Protection
The 21st Century School Fund
Alliance to Save Energy
American Association of School Administrators
American Federation of Teachers
American Architectural Foundation
American Institute of Architects
Association of School Business Officials International
Centennial Contractors Enterprises
Coalition for Community Schools
Cuningham Group Architecture, P.A.
District of Columbia Public Schools
Fanning/Howey Associates, Inc.
George Lucas Educational Foundation
Healthy Schools Network, Inc.
Heery International, Inc.
Johnson Controls, Inc.
KnowledgeWorks Foundation
National Association of Realtors
National Clearinghouse for Educational Facilities
National Education Association – Health Information Network
National School Boards Association
National School Supply and Equipment Association
Parsons 3D/I
Pedestrian and Bicycle Information Center/ UNC-Chapel Hill
Rebuild America's Schools
School Construction News
School Planning & Management magazine
SHW Group LLP
Tandus Corporation
The Rural School & Community Trust
The U.S. Conference of Mayors
U.S. Green Building Council
URS Corporation